FOURTH QUARTER 2019
SABBATH SCHOOL INSIGHT #3
OCTOBER 19, 2019
"GOD'S CALL"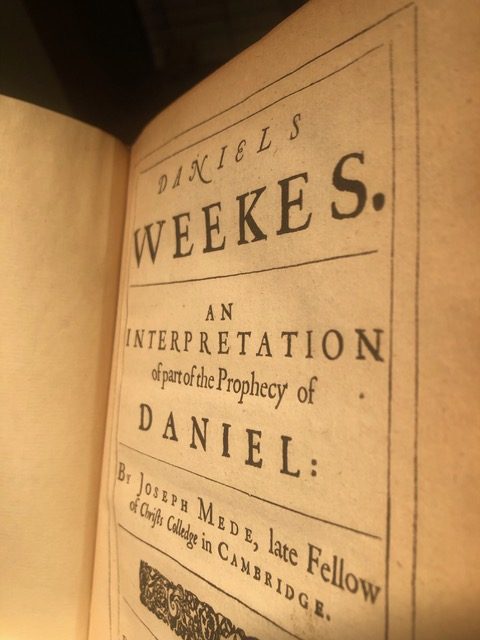 Our lesson this week focuses on "God's Call". I did not realize the significance of this title until I looked at my calendar. This week my itinerary takes me to New England—where Adventism began. My journey to William Miller's farm comes on the one hundred and seventy-fifth remembrance of the Great Disappointment.
Providentially in preparation for this trip I have been sorting through the largest collection—that I know— of original Millerite material in private hands. We are talking multiple copies of first edition printings of William Miller's book "Evidence from Scripture and History of the Second Coming of Christ About the Year 1844: Exhibited in a Course of Lectures". Then there are "Prophetic Expositions or A Connected View of the Testimony of the Prophets Concerning the Kingdom of God and the Time of Its Establishment" by Josiah Litch—volumes one and two. Not to mention "Daniel's Weekes" by Joseph Mede which was printed in 1643…that is right 1643…two hundred years prior to the anticipated coming of Christ in 1843 or 1844. All these volumes are calling out for closer study, for reconsideration. Why now? Why me?
Ezra and Nehemiah were called for a specific task by God: to rebuild what lay in ruins. God shielded William Miller from death in the 1812 war thereby weaned him away from Deism and skepticism by sitting him down with a Bible and the Cruden's concordance (the collection has one of those too) to fathom the most momentous events that could ever be considered—the cleansing of the Sanctuary and the return of Jesus for His Children. These William Miller conflated and missed—with God's providential hand covering his eyes, but momentous they were, and are, all the same. William Miller too was called.
I am not a numbers guy, but it seems significant that Ezra preached thirteen years in Jerusalem and William Miller preached about the same amount of time —from 1831 to 1844— to mainly Christians about the Second Coming of Christ. Like Ezra, William Miller had the toughest time to make any headway. It took an intrepid Joshua Himes and encouraging Josiah Litch in the last four of these years to take things 'to another level'. Charles Fitch was a brother in the fight against unbelief and rejection too. We all need colleagues like these. They too were called to self-sacrificially share the message of Christ's return.
What is significant is they were called to place telescopic sights on 1844—all in the providence of God. Gabriel stood at the beginning to guide and comfort Daniel in the seventy weeks prophecy which with laser precision foretold the greatest Gift that our Heavenly Father could give—the ratification of the Everlasting Covenant with the life and death of Jesus Who is the Savior of the World—especially of those who believe. In addition to this prophecy Gabriel also laid out the 2300-day prophecy which brought physical and emotional dis-ease to Daniel when he discovered that the hope of full restoration of the Sanctuary would stretch unattainably far into the future.
For the first time the connection between these two prophetic mountains has been made plain for me. The first resulted in the disappointment of Israel—the second in the disappointment of modern Israel. On both end points of these two momentous prophecies are rebellious and unbelieving children. It is really God the Father Who is disappointed in both these instances.
The prayer of Nehemiah as recorded in the first chapter holds more than an intercessory quality. It is the heart cry call of a servant of the living God to revival and reformation when contemplating that absence of a place of worship to the only Worship Worthy Being in the universe is the present status.
5 And I said: "I pray, Lord God of heaven, O great and awesome God, You Who keep Your covenant and mercy with those who love You and observe Your commandments,
6 please let Your ear be attentive and Your eyes open, that You may hear the prayer of Your servant which I pray before You now, day and night, for the children of Israel Your servants, and confess the sins of the children of Israel which we have sinned against You. Both my father's house and I have sinned.
7 We have acted very corruptly against You, and have not kept the commandments, the statutes, nor the ordinances which You commanded Your servant Moses.
8 Remember, I pray, the word that You commanded Your servant Moses, saying, 'If you are unfaithful, I will scatter you among the nations;
9 but if you return to Me, and keep My commandments and do them, though some of you were cast out to the farthest part of the heavens, yet I will gather them from there, and bring them to the place which I have chosen as a dwelling for My name.'
10 Now these are Your servants and Your people, whom You have redeemed by Your great power, and by Your strong hand.
11 O Lord, I pray, please let Your ear be attentive to the prayer of Your servant, and to the prayer of Your servants who desire to fear Your name; and let Your servant prosper this day, I pray, and grant him mercy in the sight of this man."
This lament is the pattern for the prayer of Daniel in the ninth chapter as well—a conviction that the present situation is related to his personal and corporate sin. It is interesting that Nehemiah identifies himself with his people in their unbelief and waywardness. In verse seven he references the history of Israel by referring to Moses. In verses eight through nine he cites the case against Israel but ends by claiming the promise that God made to restoration and purpose for His people. Fred Bischoff put it this profound way "I am convinced that when we repent of our history, we can lead the Jews into repentance of their history."
God's call is to true revival, reformation and repentance—the great need of His Remnant church. We need to acknowledge that we have been recalcitrant and as culpable in the delay of the consumption of the great controversy by saying that all is well when our situation is dire. Here is our responsibility—or the ability to respond.
Unless the church, which is now being leavened with her own backsliding, shall repent and be converted, she will eat of the fruit of her own doing, until she shall abhor herself. When she resists the evil and chooses the good, when she seeks God with all humility and reaches her high calling in Christ, standing on the platform of eternal truth and by faith laying hold upon the attainments prepared for her, she will be healed. She will appear in her God-given simplicity and purity, separate from earthly entanglements, showing that the truth has made her free indeed. Then her members will indeed be the chosen of God, His representatives.
The time has come for a thorough reformation to take place. When this reformation begins, the spirit of prayer will actuate every believer and will banish from the church the spirit of discord and strife. Those who have not been living in Christian fellowship will draw close to one another. One member working in right lines will lead other members to unite with him in making intercession for the revelation of the Holy Spirit. There will be no confusion, because all will be in harmony with the mind of the Spirit. The barriers separating believer from believer will be broken down, and God's servants will speak the same things. The Lord will co-operate with His servants. All will pray understandingly the prayer that Christ taught His servants: "Thy kingdom come. Thy will be done in earth, as it is in heaven." Matthew 6:10. 8T 251.1
We need to view God's goodness which will lead to repentance. 'Standing of the platform of eternal truth' hints at reviewing His teaching and includes reviewing how God has led us so far in our history. We need to declare the Third Angels Message in the clear light of how God called Ezra, Nehemiah, Daniel and the reemergence of prophecy as His chosen vehicle to sweep away our unbelief and skepticism. God is calling us to read again and prophesy again and to understand with His prophetic perspective.
It has taken the reality of carefully perusing the first edition physical gems in my keeping to wake me up to the significance of God's leading in our history and repent that I have been insensitive, indifferent and ill-informed. I have poured over and learned more about the life of William Miller and God's desire to finish this work in righteousness in the last two months than I have in a long time. Something is beginning to stir in my bones. My prayer is for a willing heart to hear and heed God's call even as we gather at William Miller's farm. May His call to His church be heeded and experienced.
~Richard Kearns