"SEEING PEOPLE THROUGH JESUS' EYES"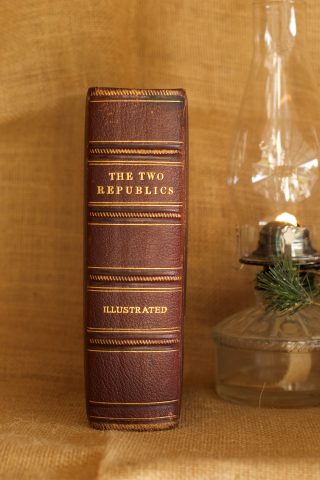 In 1874, Isaac van Horn and his wife Adelia packed up their belongings and traveled west to do evangelism. As a convert to Adventism through Joseph Bates, Isaac picked up the baton of the Gospel to spread the good news of the Third Angels Message. They began tent meetings in Walla Walla, then the largest city in the Washington territory which boasted fifteen hundred residents at the time. After the meetings, Adelia reported six converts to the gospel in her news clip submission to the Review and Herald. One of these converts she described like this:
"The next one that came forward was a soldier from the Garrison (fort). For weeks he has been earnestly seeking the Lord, and a few days hence received bright evidence of sins forgiven. After being buried with Christ he arose exclaiming with upraised hands, 'Dead to the world, and alive to thee, O my God!'" (reference needed)
The name of this young man was Alonzo Trevier Jones, a strapping soldier who was stationed at the Walla Walla Garrison. Taking the message to heart, he went on to be a mighty herald of religious liberty in 1887 and Righteousness by Faith in 1888. As a new follower of Christ, Alonzo fervently worked beside the Van Horns. He thrilled at the joys of sharing Christ's love with the world yet experienced his share of doubt and despair. Only later would we be given insight into what bolstered him during those trying times.
Years after his conversion, Retired Sergeant Jones wrote a sweet inscription to Adelia van Horn in a leather-bound copy of his own book The Two Republics (1891). Now a seasoned author and firm advocate for the Gospel, he takes the time to acknowledge her mentor ship during his fledgling years of service.
To Mrs. Adelia P. Van Horn in grateful remembrance of encouraging words kindly spoken to a dispirited young man fifteen years ago, this volume is now presented by him to whom those welcome words were spoken then. Truly, Alonzo T. Jones Battle Creek Mich 
December 5, 1891 *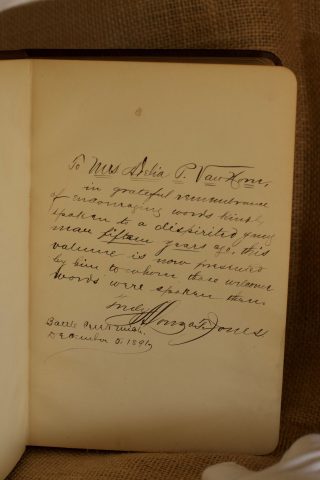 'Encouraging words kindly spoken to a dispirited young man'. How many around us need these words today? What would have become of this soldier had these encouraging words kindly spoken not been uttered by this pastor's wife? Would he have become a beacon of Righteousness by Faith? Would he have written these impactful books or become such a renowned historian? We will not know on this side of eternity for sure, but Adelia's words of faith definitely impacted this young Christian in a powerful way.
Each word, each action is a work for God. Here is faith in God, and faith in men. Christ would never have given His life for the human race if He had not faith in the souls for whom He died. He knew that a large number would respond to the love He had expressed for humanity. It is not every heart that responds, but every heart may and can, if it will, respond to that love that is without a parallel. 12 Letters and Manuscripts, Lt 153a, 1897, par. 17
 "Each word and each action is a work of God." Adelia van Horn had faith in Alonzo T Jones and God directed it to produce this magnificent volume.
Everyone who loves God in sincerity and truth, will love the souls for whom Christ has died. If we wish to do good to souls, our success with these souls will be in proportion to their belief in our belief in, and appreciation of, them. Respect shown to the struggling human soul is the sure means through Christ Jesus of the restoration of the self-respect the man has lost. Our advancing ideas of what he may become is a help we cannot ourselves fully appreciate. Fundamentals of Education 280.1
Seeing as God sees includes this amazing dynamic of believing in what others can be—seeing their potential in Christ. We commonly regard 1 Corinthians 13:1 as the aspiration of every striving Christian, but first we need to view it as the description of this Love that is without parallel. God "beareth all things, believes all things, hopes all things, and endures all things", and He invites us into this work towards others. "As the Father has sent Me so send I you."  John 20:21
The cross stands alone, a great center in the world. It does not find friends, but it makes them. It creates its own agencies. Christ proposes that men shall become laborers together with God. He makes human beings His instrumentalities for drawing all men unto Himself. A divine agency is sufficient only through its operation on human hearts with its transforming power, making men co-laborers with God. RH September 29, 1891, par. 4
We become co-laborers with God when we see what He sees and treat others as He treats others. By looking through the lens of His love, we allow His faith to flow through us to touch our community and bolster them in times when they desperately need words and acts of kindness. It is then that the Cross becomes a divine agency and God can work fully in the hearts of men. Is it your desire to become a co-laborer with God? In what way is He calling you to exhibit His faith towards others?
For further study:
http://www.scripturefirst.net/FaithGodSermon2005.pdf
~
Richard Kearns